Today I start my seventh year of blogging under the masthead "From Reid's Dad."  I started the blog in September 2009, wondering if I would be meeting a need among parents of teen drivers for better information about safe teen driving.  Six years, more than 200 posts, several hundred thousand online visitors, and a couple of national public service awards later, the answer would appear to be "yes."  I am deeply grateful to the readers, parents, organizations, and advocates who have embraced, supported, and promoted From Reid's Dad.  As always, my inexpressible thanks to Curt Clarisey of Clarisey Consulting in Simsbury, Connecticut ,who has faithfully and skillfully maintained this blog, and now revised its format twice.  Thank you Curt!  (In particular, Curt has been very patient with my habit of emailing him a "next blog post" —  and then correcting typos later.)
But also today, I am launching a new era of blogging.  On September 1, 2015, Chicago Review Press, publisher of my book Not So Fast, will release the book in Spanish as No Tan Rápido  (as outlined in several earlier blog posts in the past year).  In addition, on about September 15, 2015, my new book, His Father Still: A Parenting Memoir, will be published by Argo Navis, as division of Perseus Books.  With the publication of His Father Still,  I am refocusing the scope of this blog, from advice to parents about safe teen driving to a broader discussion of parenting issues, mainly dealing with what I call "the parenting calculus" of education teens by exposing them to life's dangers vs. protecting them from life's risks.  This balance is one of the primary themes that underlie the story told in His Father Still.  I will of course continue my discussion of safe teen driving, but will add other parenting topics.
So, there will be much, much more to follow, but as of  today, we have a new look, two new books, and a new focus.  Onward and upward.
For First-Time Visitors
For those visiting for the first time: Welcome! I hope you find the blog informative and user-friendly.
I have been posting articles since September 2009, and I started with what might be considered the most basic and important topics. So, if you want to start your reading with those initial posts, just click through the Archives for September – October 2009, and work forward from there.
Proceeds from advertising on this blog are paid to my son's memorial fund, which supports day care tuition for infants and toddlers in the City of Hartford.
Not So Fast – honored by Governors Highway Safety Association, national public service award, September 2014

---
This blog – recognized by U. S. Department of Transportation's 2010 public service award, the nation's highest civilian award for traffic safety
---
Tim Hollister – designated Traffic Safety Hero of the Year by the AAA Club of Southern New England, 2012
Free Download
Teen/Parent Safe Teen Driving Contract Model
Download Now!
REACH YOUR TEENS!
Some of you have seen my "Open Letter" to new teen drivers that was published by AOL Autos on its Autoblog on July 22 (not coincidentally, Reid's 25th birthday).  We now have permission to reprint it.  Feel free to use or forward anywhere this might be useful.  My thanks again to Sharon Carty, Executive Editor of AOL Autos, for giving me the opportunity to prepare a stand-alone piece for teen drivers, to go with my blog materials and book, Not So Fast, which are directed to parents.
Get Your Letter Now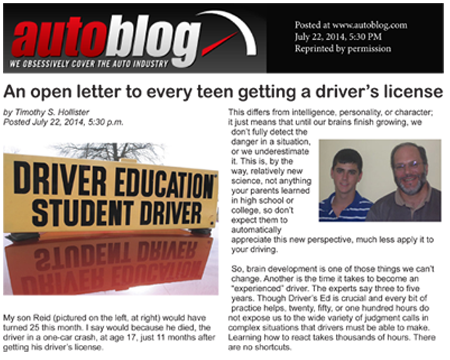 On December 2, 2006, my seventeen-year-old son, Reid, the driver, died in a one-car accident. On a three-lane Interstate highway that he probably never had driven before, on a dark night just after rain had stopped…
Safer teen driving starts with informed, conservative decisions about whether teens get behind the wheel of a car in the first place. Teaching teens to operate a vehicle safely is Step 2…
Father of Reid S. Hollister, age 17, a driver, who died in the early morning of December 2, 2006, the result of a one-car accident on the evening of December 1, at Exit 34 on Interstate 84 East in Plainville, Connecticut…
Note:  Photo of Tim speaking at Fitch High School, Groton, Connecticut, April 24, 2014 — by Tim Martin of the New London Day, reprinted with permission.