As many of my traffic safety friends know (and I am here publicly disclosing), I have a tentative plan to dial down my safe teen driving activities including this blog, at the end of 2016.  This December will mark ten years since Reid's crash.  I no longer have a teen in the house (my daughter will soon turn 24).  Safe teen driving has been a mission in my spare time, and I think 2017 will be time for me to move on to other challenges.  I won't disappear, but I will cut back on my safe teen driving efforts.
However, I have three pieces of unfinished business to take care of in 2016, and one is to finish up the research and thinking I have been doing about parent-teen driving agreements.  I covered this topic briefly in Not So Fast, and in 2012 I published on my blog a national model agreement in English and Spanish, but I have had in my files for these past four years a compilation of research and analysis about how these agreements, potentially very useful but woefully underutilized by families, can be improved.  So it's time for me to put my work and thoughts into a paper and send it out nationally.  A PDF of the paper is attached.
As stated in the report, its intended audiences are (1) state highway safety offices, because the primary goal of the report is for each state to adopt a model statewide agreement based on the report's best practices and each state's teen driving laws; (2) any and all organizations, such as insurers and youth safety organizations, who have put out their own models agreements and can review this report to see if their models may be improved; and (3) parents and teens.
The four premises of the report are that (1) there is no national comprehensive study (that I could find) about best practices in teen driving agreements; (2) there is a vast array of agreements available (especially on line), many of which would benefit from being reviewed for whether they mirror best practices; (3) agreements are a great way for parents and teens to communicate calmly and face to face about the dangers of driving; and (4)  the best agreements are at minimum consistent with safe teen driving laws but also customizable by each family.  As to this last point, put another way, the weaker a state's teen driver laws, the greater the opportunity for families to use a teen driving agreement to set a higher bar for safety.
This report discusses what a parent-teen driving agreement is and is not; the elements of a good one; how to customize; and traps to avoid.  The last four pages are national model agreements, in English and Spanish.
We are distributing this report electronically (I will have print copies next week at the Lifesavers Conference in California), but we are asking  the national traffic safety folks and everyone involved in safer teen drying to please review this report and pass it on by email, text, Tweet, or other electronics means to everyone who may be interested.  The model agreements are not copyrighted and are intended to be downloaded and customized.
I hope you find this report to be a useful contribution to safer teen driving.
Thanks,  Tim Hollister
PS – the other two pieces of unfinished business?  Watch this space for details!
For First-Time Visitors
For those visiting for the first time: Welcome! I hope you find the blog informative and user-friendly.
I have been posting articles since September 2009, and I started with what might be considered the most basic and important topics. So, if you want to start your reading with those initial posts, just click through the Archives for September – October 2009, and work forward from there.
Proceeds from advertising on this blog are paid to my son's memorial fund, which supports day care tuition for infants and toddlers in the City of Hartford.
Not So Fast – honored by Governors Highway Safety Association, national public service award, September 2014

---
This blog – recognized by U. S. Department of Transportation's 2010 public service award, the nation's highest civilian award for traffic safety
---
Tim Hollister – designated Traffic Safety Hero of the Year by the AAA Club of Southern New England, 2012
Free Download
Teen/Parent Safe Teen Driving Contract Model
Download Now!
REACH YOUR TEENS!
Some of you have seen my "Open Letter" to new teen drivers that was published by AOL Autos on its Autoblog on July 22 (not coincidentally, Reid's 25th birthday).  We now have permission to reprint it.  Feel free to use or forward anywhere this might be useful.  My thanks again to Sharon Carty, Executive Editor of AOL Autos, for giving me the opportunity to prepare a stand-alone piece for teen drivers, to go with my blog materials and book, Not So Fast, which are directed to parents.
Get Your Letter Now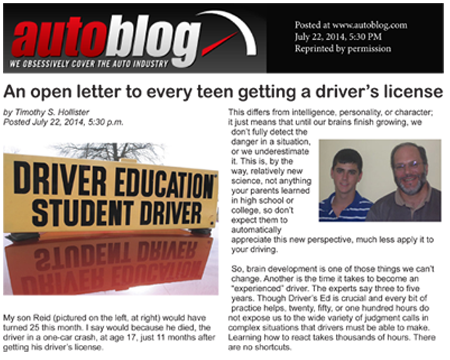 On December 2, 2006, my seventeen-year-old son, Reid, the driver, died in a one-car accident. On a three-lane Interstate highway that he probably never had driven before, on a dark night just after rain had stopped…
Safer teen driving starts with informed, conservative decisions about whether teens get behind the wheel of a car in the first place. Teaching teens to operate a vehicle safely is Step 2…
Note:  Photo of Tim speaking at Fitch High School, Groton, Connecticut, April 24, 2014 — by Tim Martin of the New London Day, reprinted with permission.