I recently received this email inquiry from a father:   
My story – I'm a 50+ Dad of 2 wonderful children, a daughter (15), and a son (17). Son has been driving with a learner's permit since April. He had achieved well over the 40+ hours required of parent- supervised driving, not to mention completing the required drivers education course, which also requires a parent class that I recently took. He appears to be a very responsible driver, not taking any risks and driving very conservatively (of course I have been with him for all these drives).
I have held off as long as possible scheduling his road test knowing that the older he gets the more responsible he'll be behind the wheel – as  mentioned in many of the articles you have shared in your excellent blog. He is currently scheduled to take his road test in just a few weeks, and of course, I'm already panicking about letting him drive alone. For extra piece of mind I recently enrolled him in an advanced driving course as a gift for his 17th birthday. I was planning on having him take this shortly after he received his license. Much to my surprise, when I mentioned this during the parent course at my driving school, the instructor strongly recommended against taking this course at this stage.  He showed me an article that basically asserted teaching a new driver advanced driving skills actually makes them OVERCONFIDENT in their abilities and INCREASES the risk of an accident. The instructor said I should wait at least a year after he has been driving on his own to have him take this course.I know that you have a lot of experience in teaching about teen driving risks and wondered what you thought of this advice. I appreciate all of the information you have provided to your readers and wish you the best.
And here is my response to him:
I am inclined to agree that so-called high-performance driving courses for new drivers are at best a two-edged sword and at worst a source of overconfidence.  While more experience is better, the fact is that young drivers still have not-fully-developed brains, and they just cannot consistently evaluate risk and danger. That is why they are prone to take the skills they might learn at one of these course and then use the skills, but downplay the danger and risk.  So I would not recommend such a course for a new driver.
For First-Time Visitors
For those visiting for the first time: Welcome! I hope you find the blog informative and user-friendly.
I have been posting articles since September 2009, and I started with what might be considered the most basic and important topics. So, if you want to start your reading with those initial posts, just click through the Archives for September – October 2009, and work forward from there.
Proceeds from advertising on this blog are paid to my son's memorial fund, which supports day care tuition for infants and toddlers in the City of Hartford.
Not So Fast – honored by Governors Highway Safety Association, national public service award, September 2014

---
This blog – recognized by U. S. Department of Transportation's 2010 public service award, the nation's highest civilian award for traffic safety
---
Tim Hollister – designated Traffic Safety Hero of the Year by the AAA Club of Southern New England, 2012
Free Download
Teen/Parent Safe Teen Driving Contract Model
Download Now!
REACH YOUR TEENS!
Some of you have seen my "Open Letter" to new teen drivers that was published by AOL Autos on its Autoblog on July 22 (not coincidentally, Reid's 25th birthday).  We now have permission to reprint it.  Feel free to use or forward anywhere this might be useful.  My thanks again to Sharon Carty, Executive Editor of AOL Autos, for giving me the opportunity to prepare a stand-alone piece for teen drivers, to go with my blog materials and book, Not So Fast, which are directed to parents.
Get Your Letter Now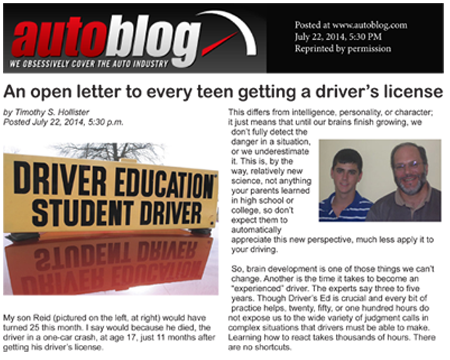 On December 2, 2006, my seventeen-year-old son, Reid, the driver, died in a one-car accident. On a three-lane Interstate highway that he probably never had driven before, on a dark night just after rain had stopped…
Safer teen driving starts with informed, conservative decisions about whether teens get behind the wheel of a car in the first place. Teaching teens to operate a vehicle safely is Step 2…
Note:  Photo of Tim speaking at Fitch High School, Groton, Connecticut, April 24, 2014 — by Tim Martin of the New London Day, reprinted with permission.